Now that the 2018 celebrations are behind us, give yourself a pat on the back for getting through the holidays!  How's your 2019 looking?
 As I was thinking about 2019, a few exercise ideas inspired me and I would like to share them with you.
As always, my wish for you is to live a great life and my desire is to share "healthy ways" to do so through my Dance Aerobic classes.
To stay on track for the New Year, here are four exercise tips: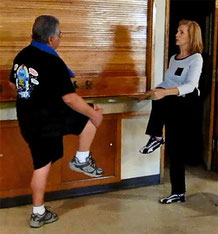 T

ip

#1 –View exercise as quality "me" time then you'll look forward to that special hour.

 

In fact, positive memories of exercising help to inspire future times moving!

 

Just ask George in KT's Longhaven class.

 

He said, "I didn't feel like getting ready to go to class, but then I think of the fun we have and how great I feel  and my mindset turns to eagerly leaving my house!"
Tip #2

– Make your exercise goals realistic and achievable.

 

Mayo clinic says, "It's easy to get frustrated and give up if your goals are too ambitious."
Tip #3

– Schedule your exercise like you would any other important activity!

 

Choose whatever time of day works for you.

 

Most people have a time of day where they feel more energetic.

 

That could be a good time to exercise.
Tip #4

– This is a FUN tip!

 

"Bet" on yourself.

 

For extra added exercise motivation, challenge yourself with money.

 

One suggestion is to have a reward jar or a "donate to charity" jar (or both!).

 

For each exercise class or activity completed reward yourself by placing money in the "reward" jar.

 

For every time you miss an exercise class or scheduled movement activity without a reasonable excuse put the money in a jar to donate to charity!

 

It's a win-win either way!
  ♥. . . I'd love to hear how these four tips inspired you . . . ♥