Posted by KT LaSAlla
Exercise is a subject worth repeating because the senior population is growing rapidly as new medicines, proven treatments, plus healthy eating and exercise habits that help extend our lives are advertised daily worldwide.   Anything that is promoted numerous times and in multiple ways causes the public to eventually take notice and creates not only an interest throughout social settings but also an interest by the witnessing of "huge results."   One such proven example is daily exercise equals longevity with a better quality of life.
Now, on to the "meat" of this blog -- how can you, the reader, get on the bandwagon and take advantage of all of these "great results" that are exposed daily and share with your fellow seniors? 
Spread the word ~ "healthy living" can be contagious
Preach by example ~ like the "pied piper"
Support seniors ~ compliment or praise each other for an effort to live a healthy life
Living a Balanced Life:
Exercise at least 3 times a week; even a brisk walk through the Mall or around the block counts!
Prepare healthy foods
Be sure to have your annual check-ups.  (We know our bodies so don't put off seeing a doctor if you are experiencing an unusual change in your system).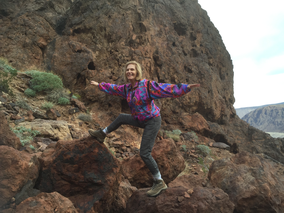 Another reason to EXERCISE, and this is so important, especially for seniors over 65 years old ~ BETTER DAILY BALANCE!
One  out  of  every  three  adults over 65 years old falls each year, according to the Centers for Disease Control and Prevention. They go on to say, "However, research supports the notion that many of the physiological changes related to aging – such as loss of balance – can be prevented or postponed with regular exercise."
In my classes, I teach a portion of the class standing behind a chair as we practice a series of exercises designed specifically for balance. I'm so proud of my seniors as they continually achieve and hold the balance positions longer each time. In my new 5th video, KT's Classic Dance Aerobic Video, recently released, I have added a chapter on balance.
I know so many seniors where movement is a major focus in their lives. I'm honored to be a part of their "fitness plan" for the movement as they desire not only to think of physically moving, but also ensuring that the organs in their body are nutritionally nurtured and balanced.  I am very proud of the many seniors who are starting to take their health seriously by partaking in daily moving activities and practicing healthy eating habits!
To Your Health