Posted by KT LaSalla  ~  October 27, 2014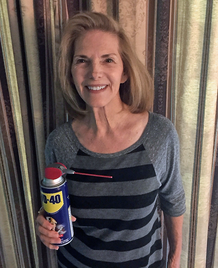 Do you ignore statements about how to "be healthy?" Do you quickly turn the page or change the channel when you see and hear challenging facts about your health?  Or even worse, you read and listen about healthy choices and say, "I'm fine" when you know otherwise. Please DON'T IGNORE what your body is saying to you!

Our physical bodies are like machines, and with this in mind, I always tease my classes about oiling our knees and hips when we start with warm-up routines.
With all that said, let's talk reality. Yes, it is definitely harder as we get older to keep our bodies and minds in a healthy state. Look at some strong statistics though. The most recent statistics of people living over 100 years of age is from Wikipedia in 2012 stating the number at 316,600. The United States has the most Centenarians, with Japan coming in second.  You have to say that the Doctors and media are getting through to some people.
What can seniors do and what should they be doing to enjoy more of a "Quality of Life" as they age? I have a few suggestions and would also like to hear from some of you who either know what to do or are experiencing that "Quality of Life" we all desire.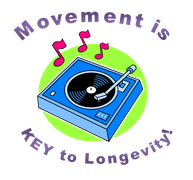 I know some of you think I sound like a broken record. Remember when we were playing the 78's and then the 45's and the needle would have trouble getting out of a groove and keep repeating the same word or words? That's me!  As I continually say in my classes and here on my Blog, "Movement is KEY to longevity and quality of life!" You'll also hear me repeat the words of nutritionists, "we are what we eat." Some kind of movement and eating right is essential to YOUR "Quality of Life." In my Class Schedule each week I visit 6 Centers. I teach seniors 55+ to 95 years young. Some are in wheelchairs, others using walkers and the rest walk in on their own. It's inspiring to see everyone moving to the beat or to their own beat. What is your choice of health?
To Your Health,