Posted by KT LaSalla  ~  September 8, 2014

What a glorious way to start each new day in celebration of YOU. Being thankful for just "ONE THING" in your life at that moment when you first arise is a great way to start celebrating YOU!  We all know as we age, our minds and thoughts change along with our bodies as they, too, are often not as active.  So, it's up to "us" to get into habits that will help us experience each day with a new appreciation!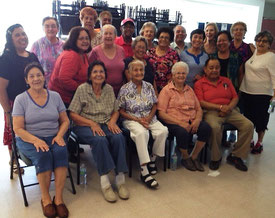 For example, this past week I returned to Avondale Senior Center where in August of 2011 I started teaching Dance Aerobics every Wednesday to about 30 seniors, male and female of all ages. (I mention "all ages" because I have seniors in their 90's in my classes!)  We moved over to the American Sports Center in Avondale a little over a year ago. More seniors joined us from the area and Dax & Erin, the Recreation Coordinators of the Avondale Senior Center, made sure they transported as many seniors as they could.  CareMore Insurance sponsored me at the American Sports Center and continues to sponsor me as we move back "home" to Avondale Senior Center.  I want to say how very grateful I am for CareMore sponsoring me not only there at the American Sports Center and here at the Avondale Senior Center but also every Monday morning at the Christown Mall in Phoenix. (Please see class schedule for more information.)
As we draw a close to the Summer of 2014 and look towards a much welcomed Fall in Phoenix, AZ, I want to celebrate the 100's of seniors who allowed me to reach out to them these past three and a half years.  What a privilege to applaud each of you and watch you grow by moving your "bodies" and also your "minds." I think, too, of the many dance steps we combine during each class to energize our hearts as we, together, balance our extraordinary beings.
I want to thank all of my seniors here in Arizona, as well as all who have purchased my videos in various states, for inspiring me to continue my mission of reaching as many people as possible, of all ages, to follow my lead in realizing that "Movement" is truly the "Key for a Happy & Healthy Life."
As you can see, when I awoke today my celebration was twofold, being so thankful that I can teach all my Dance Aerobic classes each week and thankful for all of you, my fellow dancers!
Please leave your comments to let me know what YOU are thankful for today.