Should You Exercise When You Have Arthritis?
By Kt LaSalla ~ August 25, 2014
So many 55+ adults have some form of arthritis and I see this evidence in my Dance Aerobic classes at the various centers where I teach. Let me share with you this fact. Their attendance percentages are high, even though they were experiencing pain before coming to class. They don't let it stop them! They find relief and enhanced mobility in activity that requires movement. This is just another reason why it's so important for people to find a class or activity that they enjoy AND look forward to attending!
In the magazine, "WebMD," under Health Information, Stephanie Watson writes a very interesting and informative article about arthritis. She said, "Even a little movement can do your joints a lot of good." Also in this article, Dorothy D. Dunlop, a PhD, Professor of Medicine and Rheumatology at Northwestern University says, "For people with arthritis, being physically active will help reduce pain and joint stiffness, increase strength and improve mobility."
In light of the above, whether you have rheumatoid arthritis (RA), an autoimmune disease, or osteoarthritis (OA), a degenerative condition, exercise can help. Let me repeat that – exercise can help! The first inclination when experiencing these symptoms is to avoid any kind of physical activity. However, by moving the effected part gently, you are helping to reduce the pain and/or stiffness. (This is why I always say to make sure you are taking a class where the instructor recommends "moving at your own pace.")  Physical activities can reduce muscle loss, which is a common problem with RA, and in the case of OA, exercise helps take excess weight off stressed joints.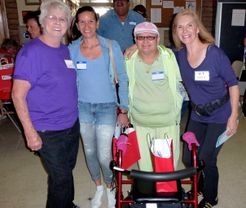 In the photo to the right you see three of my students who are at different levels. They know their capabilities and move at their own pace. Going from left to right, #1 has arthritis, #2 can perform any type of activity, and #3 has cancer and receives chemotherapy treatments.
You should always discuss with your Doctor the type of movement that is good for you and the level of your ability. Remember to always start slow whether walking or exercising. If you enjoy gardening, do it in small increments. Avoid going out and pulling weeds for an hour or mowing your entire yard all at once, especially if it's a large lot. I like to use the phrase, "chunk it!" Whether working outside in your yard, doing housework, or even shopping, do a little at a time!
Do you have an activity that helps you with arthritis? I would love to hear from you about your level of exercise so we can share with our readers your thoughts and experiences. Your words may just encourage someone today!
To Your Health,