Posted by KT LaSalla  ~  June 23, 2014
What motivates you to get up in the morning and start your day feeling "really good?" Most of us are aware that we should stretch before and after exercising, but did you also know that stretching first thing in the morning gives you more energy and helps you to be better prepared for your day?  What a positive attribute to have as we begin each new day!
Before you read anymore...STOP and do this stretch with me. This will take only 30 seconds...stretch both arms out to the front then bend your elbows while bringing both hands to your waist. Now take a big breath in that position. Repeat that exercise. How do you feel? How do you think you'd feel after performing a series of stretches for a short period of time? Why did I say "STOP" because we all procrastinate and put off so much in our lives including exercising and stretching. SUCCESS = Setting Goals = Take Action = RESULTS. In other words, JUST DO IT and that's what YOU just did!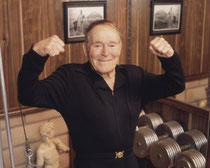 Today, we know for a fact that daily stretching and moderate exercise can increase your energy and overall health. Look at Jack LaLanne, who passed away in 2011 at the young age of 96. He emphasized the importance of exercise and stretching as part of his everyday life. Yes, he also practiced good eating habits along with his daily regimen and we'll be covering nutrition in a future blog.
Just as stretching before you exercise will prepare your muscles for rigorous movement and stretching afterwards will relax and quiet your muscles for normal movement, it's just as important to start each new day stretching or, as I like to call it, "waking up our muscles" in the morning since they have been lying dormant for hours.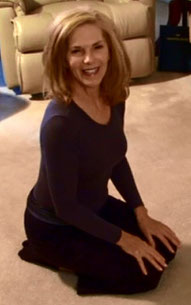 So, you are asking, how do I start? If you haven't been stretching, remember to start slow! I recommend only going as far as you can in any movement and then, as you sustain your stretching program, you will become more flexible and better able to press and extend each move. Need some ideas for effective stretches in getting started? In the left-hand column on my website there is a section to sign up and receive (spam-free) "KT's 2-Minute Stretching Moves" via email for seven weeks. For more extensive stretches, use my "7 Minute Daily Stretch" DVD, available on the Products page also on my website.
I always start my fitness classes with a series of stretches as we warm-up the body. If you are in the Phoenix area, please join us.  (A monthly calendar is posted on my website under "Class Schedule.")  
Perhaps you have a favorite stretch that helps you get up and moving in the morning.  I would love to hear about it.  Be sure to leave a comment below.  
Regardless of what method you use for stretching, the important fact remains, "stretching" is a necessary part of life no matter what age you are. Be sure to engage in a stretching activity that you find benefits you throughout the day, like finding that you have "more energy." With continuous stretching habits, you will see and feel so many benefits that you won't want to miss a single day!