Posted by KT LaSalla ~ Monday, June 16, 2014

After 14 years of studying 123,000 people, Fitness Coach Tom Manfredi of fitness-after-50.com says, "So, even if we get 60 minutes of exercise per day, then sit for the remaining 15 waking hours, that sitting MAY override the good benefits derived from the exercise."
I believe Tom Manfredi is opening our eyes to a realistic view we need to think about. We have all heard how sitting too many hours watching TV or doing nothing can negatively affect our triglycerides, cholesterol, blood sugar levels, and blood pressure. These prolonged periods of sitting can also contribute to our organs shutting down or giving us concerns. Tom states that after researching different studies, "sitting could even lead to death!" Beware of becoming a "Couch Potato!"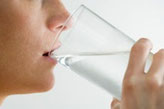 So many elderly people sit and watch TV or just sit forgetting to eat or hydrate themselves, preferably with water. This happened to my Mother and she had to be rushed to the hospital for an IV. After that she always kept one of those little bottles of water that's easy to handle with her. 
My mission is to reach as many seniors as I can by spreading the word that movement is the main key to our health, along with nutrition. Activity to me is a fitness class, walking, swimming, participating in any kind of sport, or even gardening.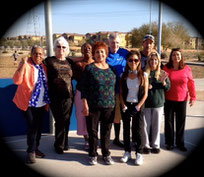 So, how can you avoid the pitfalls of becoming a "Couch Potato" or being inactive? Find not just physical activities to fill your calendar but look for social events, too. For your extra moving activities, it's best to socialize with friends or groups that share your healthy mentality on movement. These activities could include going to a mall, attending a craft or health fair, or even visiting your local zoo.
Healthy living is a necessary lifestyle change for some of us. Whatever exercises and activities you choose, make sure they are ones you enjoy and have a good time doing. I stress how important that is in my dance aerobic classes, which I teach in the Phoenix area, as well as in my videos, which are available through my website. We have a good time while moving our joints and muscles and performing cardio, but our laughing is definitely the BEST exercise!
Here are some additional ideas that you might consider for everyday movement:
When talking on the phone, stand instead of sit. If you can, it's a good time to walk since most of us use cell or cordless phones.
Bicep curls are great when you have a few extra moments like watching TV. You don't even need weights, just perform the movement! (Contact me through my website for ideas regarding Weight Strengthening for Seniors.)
When meeting with another person, walk and talk instead of just sitting.
Play Wii Fit Games. These are great also for our brains.
Recently, a New York magazine article presented one man's journey to improve his health by standing up literally most of his waking hours. Good Morning America aired this video on June 9, 2014, entitled "Imagine Not Sitting Down for an Entire Month."
While this may seem extreme for most, the GMA team shares great information after viewing this segment of the video. Click on the video below to hear what they say:
The point Tom Manfredi and I are making is do not think that after you move for a while, it's then okay to sit the rest of the day! Find other ways to keep your body and mind active as much as possible, even if it's only your arms. Of course, resting the muscles between activities is recommended for all ages.