June 9, 2014 ~ By KT LaSalla . . . . . . Leave A Comment Below

Here is the big question this week! Your friend asks you, "would you rather play horseshoes or exercise, would you rather play tennis or exercise?" I hear a large majority of people telling me horseshoes, tennis, any kind of sport. Why, because it's a fun time!!
With exercise most people think of work and/or pain. On the other hand, with playing a sport they think of fun! Let me now perform a little psychology on you. As noted in my earlier blog, I referred to exercise as a sport! With this in mind, when you exercise you should be having a good time, yes or no? Would more people attend a fitness center or gym if they thought of it as going and competing in a sport with other people and having FUN or would they just pay the monthly rate because they know this is the thing to do, though they rarely do go?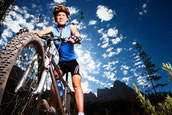 Let me ask you, how do you classify riding your bike? Is it an exercise or a sport? Parent.com talks about all the benefits of a bike for exercise. Wikipedia.org talks about the sport of Bicycle Racing.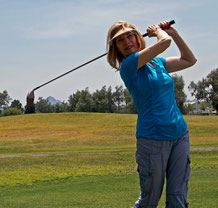 Let's now compare dance aerobics to any sport. In tennis, just watch Roger Federer play. He looks like he's dancing. He makes it look effortless and, sometimes he's even having fun, when he's winning of course!  In golf, watch so many of the professionals when they swing, especially when they tee off with their great form and the ball goes on forever. Even in bowling, the bowler has such grace and fluid motion. Just watch the ball as he does a takeaway back and then follows through for, hopefully, a strike. Then on the other hand, look at the different exercises that have brought sport moves into fitness, like kick boxing.
Let's take exercise out of the equation and call KT's Ageless Aerobic Dance class "Sport Dancing." Does that sound like fun? We could even do a Pickleball Dance routine. We could change the way we talk about exercise, aerobics, workouts, etc. and use the word SPORTS instead which would signify FUN! That's what I've always said to my class, "When you choose an activity that you want to participate in for more energy and to feel better, you want to choose one you ENJOY. Why, because you're more apt to be consistent in attending a class which will give you greater odds at feeling better and having more energy more quickly than just going every once in a while."
Will I see you at a Sporting Event or a Fitness Event? They both say,